SHE SAID: The Expendables 2 is 10 Pounds of Suck in a 5 Pound Bag
August 13th, 2012 | Posted by in
Featured Movies
|
Movies
There is a reason that blockbuster action movies are aimed almost exclusively at men. Your average girl doesn't appreciate gigantic explosions, high body counts, highly choreographed stunts and the other subtle nuances of shoot-em-up films like The Expendables or its upcoming sequel. At best, it is a movie that you begrudgingly agree to go see with your significant other if he agrees to take you out to a nice dinner first. At worst, you begrudgingly go see it because you suggested doing a He Said-She Said review of it for the website you write for, which seemed hilarious five months ago. Occasionally, big budget action movies have something girl-friendly mixed in – an awesome plot (The Dark Knight franchise), a lady actress being a bad ass (Kill Bill 1 and 2), a tear-jerker ending (Gladiator) or Ryan Gosling (anything).
That is not the case here (although my fellow writer would disagree). And it's not that I didn't try. I am a girl who appreciates the so-bad-it's-good campiness of movies like Roadhouse and every Steven Segal movie ever. So surely there is something in the Expendables 2 that I can dig, right?
Wrong. I literally don't like anything about it. Not even that cute Liam Hemsworth.
My main issue is, like the title of this article suggests, there is so much action-movie cliché jammed into this thing that it practically bursting at the seams. I don't know if my face could physically handle the amount of eye-rolling I would feel compelled to do. Here are the top 3 offenders:
Obligatory "big men in a tiny car" jokes
Arnold and Bruce Willis are driving around in one of those little smart cars. It such an obvious joke that you probably don't even need me to tell you what forced-sarcastic remark Arnold makes about it (in case you do need me to tell you, it's "My shoe is bigger than this car.") Even that sucks. Just now, I thought of at least 3 funnier comments he could have made. My favorite one involves Arnold insinuating that Bruce Willis must have a giant wang. Which is funny because people typically say that guys who drive Hummers have small ones. But he's driving a tiny car, so it's the opposite. Funny, right?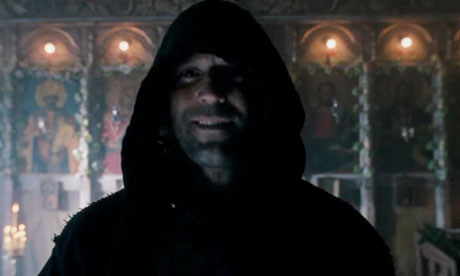 "I now pronounce you Man and….KNIFE!"
Shame on whoever wrote this little nugget.  I guess it is kinda clever, maybe, but putting it in the trailer almost guarantees that the humor in it will be completely obliterated by the time you actually see it in the theater. I can feel myself sitting in there, dreading the moment that Jason Statham dresses up like a priest because I will know that terrible line is coming up.  I know that these movies are not supposed to be realistic and that critiquing the plausibility of anyone ever saying something so corny is completely missing the point. But I can't help it. It's so awful that I wish Jason Statham would stab me so I wouldn't have to sit here repeating it over and over in my head like some kind of lunatic.
Too many Arnold puns
One pun might have been OK. With Arnold appearing in the movie, I could accept the inevitability of a joke at his expense.  But this is not that. This movie would like us to believe that Arnold is only famous for the Terminator, because all of the jokes revolve around that film. Arnold saying "I'm back." Some other guy telling Arnold that he's "terminated." And that is just in the 2 minute trailer! Maybe if the jokes included the other movies he is famous for. Call him a "predator" or a"barbarian," somehow work in an opportunity for him to say, "Who is your daddy and what does he do?" There is a lot to work with without stooping to a tired catchphrase from the 90's.  (Side note: as long as we are talking about obvious pop-culture cross references, I'd put good money on the odds of a Chuck Norris fact or two finding its way into the dialogue.)
Other than that, the trailer seemed confusing to me. I had to watch it a few times to pick up that Jean-Claude is the bad guy and then decipher that weapon everyone is after is 5 tons of plutonium. Bruce Willis says something about "this" being "payback" but payback for what? You never find out. All I know is that 1. It could have used a better song to get people pumped and 2. Sly Stallone just makes me feel sad. Also, the characters' names are utterly ridiculous. Lee Christmas? Yin Yang? Hale Caesar?  *SMH
Expendables 2 comes out August 17th. Yippee Kiy-Yay, mother effer.
You can follow any responses to this entry through the RSS 2.0 You can leave a response, or trackback.