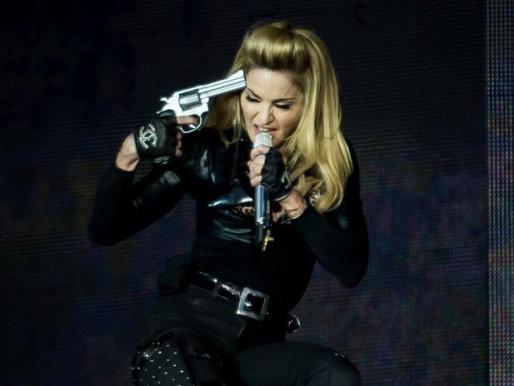 When you are an aging former pop star about a decade past your prime, experts agree that the best way to stay relevant is to royally piss off the remaining fans you have left. It's science. And nobody subscribes more to this philosophy than Madonna.
Earlier this year, Madonna defended her obscenely overpriced concert tickets (up to $300 a pop) by saying people should "work all year and scrape the money together" because she's "worth it."  You might have thought that, at a time when the economy is still in the dumper and most people are taking second or third jobs just to pay their mortgages, glib and egotistical commentary from a multi-millionaire might be fairly tactless. And you would be right. You would be double-right if you also questioned whether Madonna is, in fact, worth it.
Case in point: the horrendous Super Bowl halftime show she put on. I could go on about what a turd that was, but we all saw it. We all know.
Then, Madonna released her new album, MDNA, which was an affront to anyone with eardrums.  It was a giant flop – largely ignored by fans and slammed by critics (as well as yours truly).  MDNA was met with reactions ranging from general indifference to outright condemnation of her thinly-veiled references to drugs. It was unseemly the way she loopholed her way onto the Billboard charts by giving away free copies of the album to anyone who bought a concert ticket.
So in between then and now, Madonna has been touring and generally acting like a total jackass on stage.  Typical Madonna fare – age-inappropriate outfits, old-lady gyrating,  staged nip-slips and condescending tirades about the state of the world mixed in with offensive imagery. But, as Madonna herself will tell you, it's all worth it.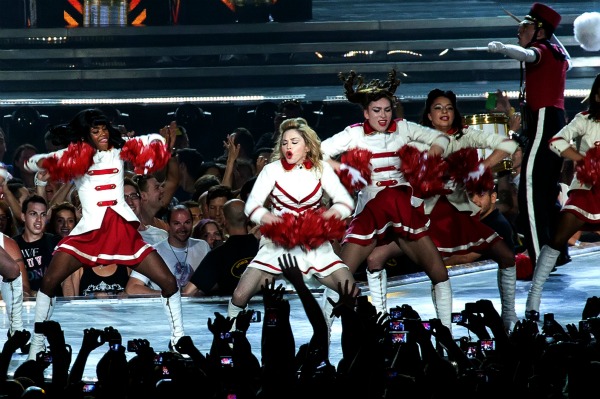 2700 people in France seem to wholeheartedly disagree. Last week, at a small-venue show in Paris, Madonna performed for an astounding 45 minutes before leaving the stage. The audience (which was largely made up of members of her fan club, some of whom paid upwards of $360 for their tickets) were pretty pissed. The video here shows them boo'ing her, calling her a slut ("salope") and demanding their money back ("remboursez!") while throwing garbage on the stage.
What does Madonna think about this? Obviously, she thinks that the show was incredible and the poor reactions were the work of a few thugs "pretending to be bad fans." Because, why not? There are always those few a-holes who, after an amazing concert, bum rush the stage, booing and cursing the artist and demanding a refund just for the heck of it.
So, if you are keeping track at home, this year Madonna has: charged her fans exorbitant amounts of money for concert tickets, put on a horrible Super Bowl half-time show, released a horrible album and then put on consistently shitty concerts that have been simultaneously offensive and lame. But she's worth it.
You can follow any responses to this entry through the RSS 2.0 You can leave a response, or trackback.